Manneken Pis' BIG BOOK
[Marie-Louise BRUYÈRE and Yoneko NURTANTIO]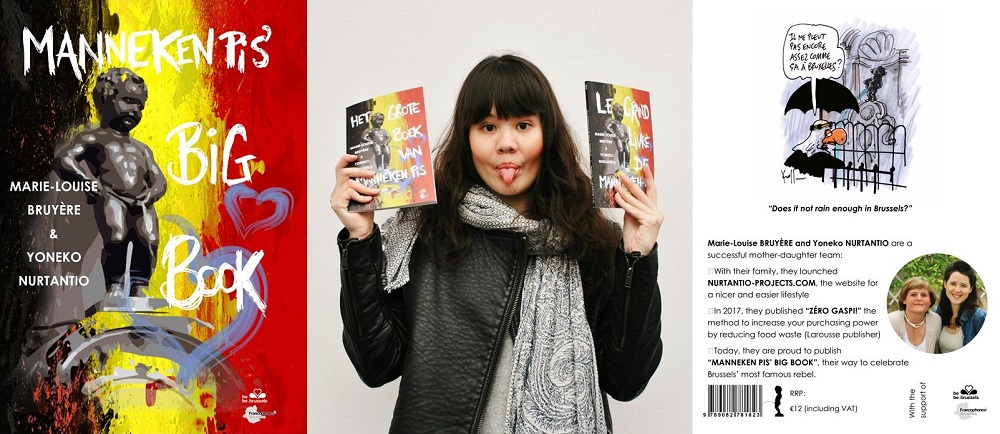 WHAT'S Manneken Pis' Big Book?

▪ A pretty and smart book: a graphic look + short and funny texts to understand this weird symbol
▪ All-in-one: Kroll, Monk, Geluck, Vizorek, Sttellla, Magritte, queen Fabiola… the cream of Belgian people gathered in one book,
by means of quotes and contributions
▪ Available in 3 languages (EN-FR-NL)
▪ A good deal : 12€

SHOP THE BOOK

"MANNEKEN PIS' BIG BOOK" is available in all these shops :

Tip: to get the complete list of retailers, click in the upper left corner


Shops in Brussels
+ Out of Brussels: De Permanensje @Geraardsbergen


WHAT'S INSIDE?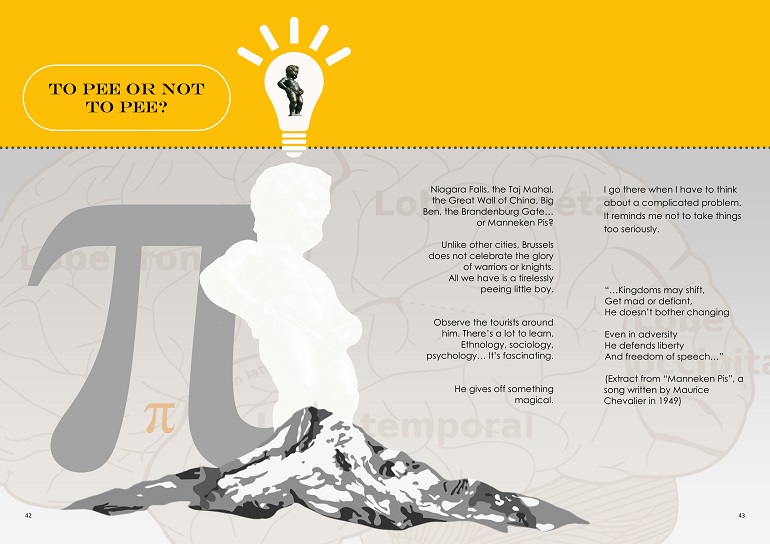 "To pee or not to pee?" - Extract from "Manneken Pis' Big Book"
Marie-Louise BRUYÈRE and Yoneko NURTANTIO© - All rights reserved
WHY DID THEY WRITE THIS BOOK?

22 March 2016. Brussels is injured by two terrorist attacks. Against terror, Belgian people decide to stay united.
Dozens of caricatures circulate widely. Most of them show the same symbol: a peeing little boy with a bare navel.
Is Manneken Pis a symbol for liberty? For sure.

Self-mockery, resistance, humility, surrealism…
What if this touristic UFO was the monument that best represents Brussels?

▪ 69 pages to understand the meaning of Brussels' most famous rebel... and to finally get the joke!
▪ Marie-Louise BRUYÈRE and Yoneko NURTANTIO are a succesful mother-daughter team. They previously published "Zéro gaspi !",
the method to increase your purchasing power by reducing food waste (Larousse Publisher)
▪ Foreword by Roel JACOBS, a recognised specialist of Brussels' history
▪ Supported by the Brussels-Capital Region and the French Community Commission (COCOF)

WHO CONTRIBUTED TO Manneken Pis' Big Book?
WHAT'S GOING ON?
FEEDBACKS

Comment of a French reader:
"Amazing! […] I loved the humor! As I was reading this book, I wish I was Belgian! How unique is this famous and beautiful symbol!"

FNAC Bookshop - Selected by the bookseller:
"Surreal, a bit rebel, famous but also disappointing… Manneken Pis symbolizes the whacky side of what's called "belgitude".
This colourful and funny book tells stories, anecdotes and mysteries about the small boy elevated to the rank of a national monument!
Simply rejoincing!"

Your opinion matters!
Send us feedback to:

FOLLOW US



Marie-Louise BRUYÈRE and Yoneko NURTANTIO, Manneken Pis' Big Book, Foreword by Roel JACOBS, translated from French by Yoneko NURTANTIO and Allison OCHSENMEIER (revision),
Brussels, ASBL Nurtantio Projects, 2017, 69 pp., ISBN (= EAN) : 978-9-08-278182-3
Price: €12